Product Image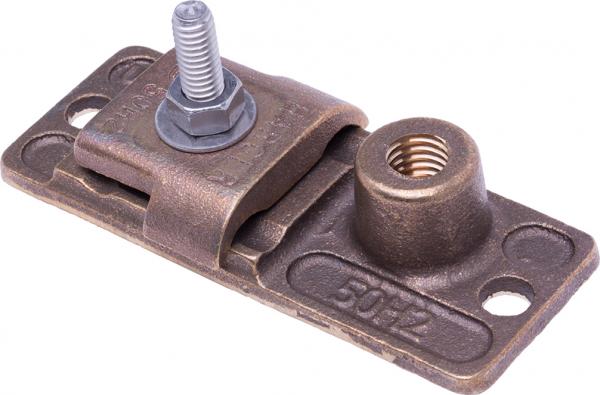 Product Variations
| | Product No. | Material | Internally Threaded Hub Diameter | Box Qty. | Approx. Box Wt. (lbs.) | Documents |
| --- | --- | --- | --- | --- | --- | --- |
| | A15112I | Aluminum | 1/2" | 5 | 1.25 | |
| | A15158I | Aluminum | 5/8" | 5 | 1.25 | |
| | 15138I | Bronze | 3/8" | 5 | 3.75 | |
| | 15112I | Bronze | 1/2" | 5 | 3.75 | |
| | 15158I | Bronze | 5/8" | 5 | 3.75 | |
| | 15138IT | Tinned Bronze | 3/8" | 5 | 3.75 | |
| | 15112IT | Tinned Bronze | 1/2" | 5 | 3.75 | |
| | 15158IT | Tinned Bronze | 5/8" | 5 | 3.75 | |
• 1-3/4" x 4" base is ideal for use where mounting area is limited such as on skylight frames or narrow extruded shapes.
• Accepts a wide variety of conductors ranging from flat strap to #14 bonding conductors up through Class II main lightning conductors.
• Two mounting holes are provided for secure mounting using machine or self tapping screws.