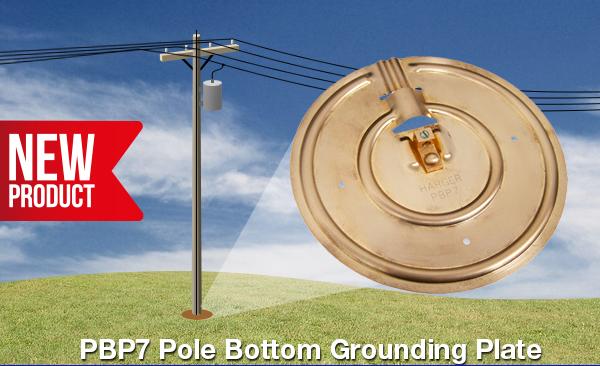 Pole bottom grounding plates provide an efficient, secure and low resistance ground connection.
We're expanding out grounding and bonding product line again with the Pole Bottom Grounding Plates. Our pole bottom grounding plates are installed on the bottom of wood utility poles and bonded to the pole ground wire. The integral copper terminal lug will accept #14 solid through #4 stranded ground wires.
Harger is the industry leader for all grounding and bonding products and accessories. Our ever-growing and extensive Grounding & Bonding Product Line now consists of the following. Also, we have on-site engineering, testing and manufacturing, so when you're in need of a custom part, you know who to call.
Grounding and bonding conductors (including bare copper conductors, tinned copper conductors, insulated conductors and copper clad steel)
Mechanical Grounding Connectors (including fence bonding, brass ball studs, water pipe ground clamps, condiut bonding clamps, cable tray clamps, CPC pipe clamps, CPC tamper-proof pipe clamps, computer room clamps, flat strap clamps, terminal lugs, offset teminal lugs, split bolts, ground pedestal clamps, lay-in lugs, reinfocing steel and water pipe clamps, stainless steel guy clamps, universal pipe clamps and strut channel bonding clamps)
Compression Connectors and tools (including lugs, high compression grounding, c-type compression taps, surface preparation supplies, butt splices, compression tools)
Ground Electrodes and Accessories (including static grounding, electrolytic ground rods (EGR), ground access wells, ground plates, ground rods, ground rod fittings, ground rod accessories, pre-fabricated ground mesh electrodes, low-impedance risers, personnel safety mat, signal reference grids, ground enhancements and pole bottom grounding plates)
Fasteners (including fender washers, dragon tooth washers, break off nuts, break off bolts, bonding lug washers, belleville washers, hex head cap screws, flat washers, hex nuts, lock washers, thread forming screws, star washers and slotted round head machine screws)
Busbars and Accessories (including copper elbows and splices, busbars and sandwich style splices)
Bonding Straps and Kits (including rack ground jumper kits, bonding straps, bonding strap kits, bonding jumpers, bonding jumper kits and bonding and grounding straps)
Ground Bars and Accessories (including ground bars, ground bar kits, ground bar accessories, intersystem bonding connection devices, rack isolation pads and ground boxes)
Ceiling / Wall Mount Arrestors 
Entry Panels