December 13, 2021
To our Valued Harger Customers,
We continue to see price escalation of key commodities, material shortages, logistic constraints, inflation, and general manufacturing cost increases. This forces us to announce a price adjustment effective February 1st, 2022. The adjustment will be on average 5% to 10% across all product lines, with some products falling outside this range.
A new list price sheet will soon be available on Harger.com. Pricing will also be updated with Trade Services and IDW. If you need a net price sheet, please contact your Harger Regional Sales Manager or email [email protected].
Price adjustments may affect blanket quotations and special pricing agreements, they will be reviewed on a case-by-case basis.
Harger looks forward to continuing to supply our partners with the highest quality products and world class customer service. We are beginning to see lead times extend on some key raw materials and will do everything possible to maintain our industry leading delivery times. Please feel free to contact us if you need any additional support during this transition.
Sincerely,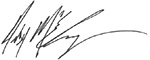 Andy McElroy
Senior Business Development Manager